Mugen Gakuen ~ Mistress Labyrinth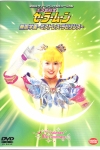 Heavily based on the third arc of the manga and the S season of the anime, but with a few differences that the musicals are known to throw in for added flair. In it, the girls have to fight the Death Busters and Mistress 9. As a twist, a new family arrives from a planet already over-taken by the Death Busters.
Trivia:
This musical is the first to feature the Witches 5.
This musical is the final one for Takagi Nao, Urai Kenji & Yoshida Megumi.
This is the first musical to feature Watanabe Mai.
Quick Information:
Title:
Mugen Gakuen ~ Mistress Labyrinth
Title Translation:
Infinity Academy ~ Mistress Labyrinth
Stages:
41
Original Stage Dates:
July 21, 2002 - September 1, 2002
Cumulative Audience:
? in attendance
Run Time:
145 minutes
Subtitled:
No
Cast:
Tsukino Usagi/Sailormoon:
Kuroki Marina
Chiba Mamoru/Tuxedo Kamen:
Urai Kenji
Mizuno Ami/Sailor Mercury:
Wakayama Manami
Hino Rei/Sailor Mars:
Yoshida Megumi
Kino Makoto/Sailor Jupiter:
Watanabe Mai
Aino Minako/Sailor Venus:
Watanabe Mizuki
Tenoh Haruka/Sailor Uranus:
Takagi Nao
Kaioh Michiru/Sailor Neptune:
Asami Yuuka
Meioh Setsuna/Sailor Pluto:
Hosaka Yuuko
Tomoe Hotaru/Sailor Saturn:
Nakamura Ruria
Chibiusa/Sailor Chibimoon:
Oota Nanami
Professor Tomoe: Aoki Kaname
Mistress 9: Inami Tomoko
Kaolinite: Kawasaki Miki

Eudial: Tsumura Hitomi
Mimete: Honda Shiori
Viluy: Futatsugi Nao
Tellu: Nunokawa Mio
Cyprine: Matsumoto Michiho
Centi/Hoshino Hanako: Endou Ado
Damask/Hoshino Shinatrou: Yukimura Yoshiya
Gallica/Hoshino Barako: Yoda Shuusuke
Alba/Hoshino Kibou: Gotou Kaho
Moss/Hoshino Seika: Ishiguro Atsuki
Songs / CD Information:
1. Overture
2. Usagi LOVE MAGIC
3. Unubore Shoujo ga Yatte Kita!! [The Conceited Girl Has Come!!]
4. Isei Nottori Keikaku [Scheme to Conquer the Foreign Star]
5. Triangle Secret!
6.
Tuxedo Mission
7. Harsh! Saint Cry!! (rearranged)
8. Chinmoku no Hameln [Silent Hameln]
9. Usagi to Yonin no Zureru Omoi [Usagi and Four Friends' Conflicting Thoughts]
[10.
Honoo no Messenger
[Messenger of Flame]
[1]
]
10. Destined Couple
11. Magus Collection
12.
Sailor War '94
13. Seijaku no Host [Host of Silence]
14. Broken Mobius (talisman)
15. The World Died Out
[17. 21st Now Millenium - Koi no Senshi ja Irarenai [21st Now Millenium - ]
[1]
]
16. Hereafter...
[3]
(17.
Mystery Sagashi
[Mystery Search]
[2]
)
(18.
La Soldier
[2]
)
1 - This song appeared in the musical, but wasn't on the memorial album.
2 - This song appeared in the memorial album, but wasn't featured in the musical.
3 - This song was in both the musical and the memorial album, and was track 16 on the album and the 18th song performed in the musical.
In Print: No
Release Date: July 20, 2002